Ashes to Ashes
I got an e-mail from a mother who supports Autism Speaks. She argued that a prenatal test for autism might not be a bad thing because parents who couldn't deal with raising special needs children would have the option to abort them, rather than potentially abusing them after they were born. Here's an excerpt from what she wrote:
My son has Down Syndrome and Autism and is loved beyond measure by me and his sister and the close friends I surround ourselves with. HOWEVER, when looking at abuse cases JUST in the family unit sense toward those with special needs, I can't help but wonder if women should be given the choice to bring a child with special needs into this cruel world.

Personally, I'd adopt a dozen more special needs kids if I had the means! But for the families that mistreat, abuse, neglect and even kill their children with special needs - I'm thinking the option of terminating their pregnancy before the cruelty begins could actually be a better choice. Again, I am PRO-LIFE for my own body and life. But who am I to tell another woman what to do with her body and unborn baby, especially if they feel the environment would not be anything but cruel or neglectful to that child with special needs?
There's a lot of cruelty in the world—no doubt about that. But when society dehumanizes a group of people so thoroughly that they are seen as nothing more than garbage to be thrown away before birth, that doesn't prevent abuse; to the contrary, that makes it a certainty that the small number of survivors will be victims of lifelong abuse. Perhaps not from their parents—but from schools where they are treated as if they're not worth teaching, from doctors who make ignorant predictions that they will never accomplish anything, from bullies who see nothing wrong with taunting and assaulting "retards" (or whatever the wastebasket word of the day is), from employers who refuse to hire them, from landlords who refuse to rent to them, and from the majority of otherwise decent and well-meaning people who avert their eyes and hurry away without speaking.
Cruelty toward autistics, or any other stigmatized minority group, is not a natural state of affairs. It exists because society has chosen to allow it to exist. There is nothing intrinsic to the development of special needs children that makes parents more likely to want to abuse them. Even the idea that their needs are "special" is a cultural construct. What we have here is a mismatch between modern society's narrow, unrealistic expectations and the actual diversity of human experience. In multigenerational autistic families (such as mine) where many of the children have autistic traits, the parents don't see anything strange or wrong when a kid lines up his toys or climbs on the furniture. That's just ordinary childhood behavior, as far as they're concerned.
At various times and places in history, different groups of people have been singled out as so incapable and so vulnerable to abuse that they would be better off dead. In India, until the 19th century, a widow could be burned alive on her husband's funeral pyre. This practice was called
sati
, also spelled suttee. Because widows often were abused in Indian society, their death was thought to be a merciful way of preventing the beatings, rape, and starvation that otherwise might have awaited them. Often they were drugged so that they would not suffer.
Like euthanasia and eugenic abortion of people with disabilities in today's society, the practice of sati strongly reinforced the prevailing cultural view that widows were useless parasites, unworthy of decent treatment or even life itself. It was because of this attitude that widows were mistreated, not because their existence was too much of a burden on their families and communities.
We're seeing the same social dynamic with autism and other neurological differences, as well as with the concept of disability in general. The more our society declares the lives of certain kinds of human beings to be an intolerable burden, the more abuse and prejudice—and sometimes murder—we find.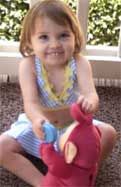 Katherine "Katie" McCarron
July 22, 2002 — May 13, 2006
Never Forgotten
Labels: eugenics, Katie McCarron, murder