Identifying the Problem
A behavior analyst got my goat.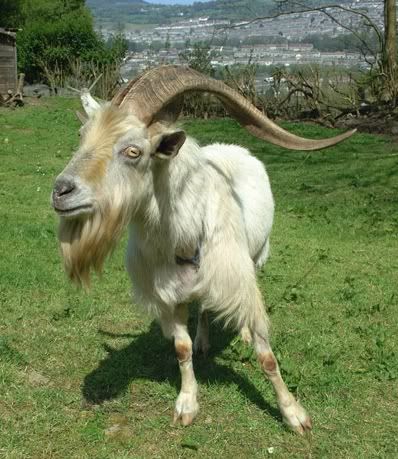 I was reading another ugly, stereotyped article about autism recently. (Although I usually don't link to ignorant scare stories, I've made an exception here because several people provided excellent pro-neurodiversity responses.) One of the commenters in the enemy camp, who signed as Behavior Analyst, claimed to have worked with autistics for over 20 years but allegedly never had seen the words Aspies and Auties.

This person made the preposterous assertion that the neurodiversity activists were the ones doing the stereotyping by "identify(ing) themselves as their disorder," unlike the understanding, caring psychologists who supposedly view each individual as unique. Jeez, if I could mine that mountain of shit and sell it as fertilizer, I'd be a millionaire in no time.

I very much doubt that anything I have to say to you will get through your thick prejudiced skull, Behavior Analyst, but here goes anyway: None of us in the autistic civil rights movement "identify as a disorder." Rather, we see ourselves as capable, intelligent, healthy human beings whose brain structure developed in the way that nature intended. You and your accomplices in psycho-bigotry are the ones who can't look at a genetic difference without labeling it as a disorder. It's no wonder you're so afraid of us: We threaten your livelihood. As soon as autistic people are accepted and respected as a social minority group, you'll be out of business.

But you know what, we didn't all just wake up one morning and arbitrarily decide, "Oh well, I'm bored with watching trains, maybe it would be fun to turn into a militant activist." To the contrary, we were quietly going about our ordinary lives when war was declared on us without provocation (the so-called war on autism) and we had no choice but to defend ourselves. In today's world, autistic children are abused, bullied, treated as damaged goods, targeted by quack-cure peddlers, and put into segregated classrooms every day because of prejudice. Autistic job applicants are rejected and left to struggle with unemployment every day because of prejudice. Our very existence is described as a plague and an epidemic every day because of prejudice. Our tax money is being used (in the US, by a purportedly pro-life government) to fund eugenics research to exterminate the autistic population through prenatal testing and routine abortion. And who is responsible for the prejudice that has put us on the brink of the largest genocide in history, Behavior Analyst? Go look in a mirror.

No doubt you and all your behaviorist pals thought you had a great business model, terrorizing ignorant parents into believing that their children would end up as helpless zombies in institutions if the parents didn't immediately empty out their bank accounts to pay for your services. But you incited fear and hysteria all too well, and now those chickens are coming home to roost—great big squawking murderous chickens, a whole flock of 'em. And what they're saying is that autistic children are too expensive, too different, too much trouble to raise, not cost-effective, better off dead, Lebensunwerten Lebens. It's Nazi-style eugenics all over again.

This is the bottom line, Behavior Analyst: Unless you have a hefty retirement fund, you had better start retraining for another career, because one of two things is going to happen in the next decade. Either there will be no more autistic children because they will all be aborted, or the neurodiversity activists will succeed in persuading society to accept autistic differences in the same way that the natural genetic differences of other minority groups have been accepted. In either case, there will be no more demand for your services. To put it another way, you don't have much longer to enjoy the gravy train, buddy.
Labels: behaviorism