Protesters Attacked by Flying Burrito Wrap
The ASAN members and cross-disability activists who protested at the Autism $peaks walk in Washington DC on Saturday, October 31st, resisted the temptation to dress in ghoulish Halloween costumes. Not everyone at the walk showed their level of maturity, however, as reported by a protester named Stan:

"I was watching the first large group of Autism Speaks walkers, and one guy looked at us and threw a burrito wrap sandwich at us. It looked like he was throwing a burrito at us. It was like watching a Monty Python burrito attack."
When I mentioned that I thought this deserved a blog post, another person suggested that I should not write negative stuff about the burrito-tosser because he was just a frustrated parent. Given the fact that Autism $peaks goes to great lengths to induce feelings of helplessness, frustration, and despair in parents for their own financial gain, I'd say that guess is probably accurate, so I'll refrain from writing a Monty Python parody of Sir Tossalot. You'll just have to imagine what it would look like.
Instead, I'll list a few reasons why I think a flying burrito wrap would be an excellent mascot for the organization. Their blue puzzle piece is getting old, and any marketing consultant will tell you that new logos and rebranding campaigns are a great way to stir up interest. Why a burrito? Well, it suits Aut$peaks in so many ways... they're cheesy, they're full of beans, and too much ingestion of their propaganda is likely to cause major gastrointestinal distress.
I'm picturing Burrito Bob with a flowing burrito-wrap cape and a big $ on his chest. I was going to sketch him for this post, but I had too much indecision about what his head ought to look like. So many snarky possibilities abound. I decided, instead, to invite those of my readers who enjoy art to design a suitable flying burrito wrap mascot. Post him on a website somewhere and put a link in my comments to give Aut$peaks some well deserved ridicule!
Edit, November 6: Neil Kapit, an autistic cartoonist who has a blog and a DeviantArt page, contributed the Burrito Bob sketch below. Thanks Neil!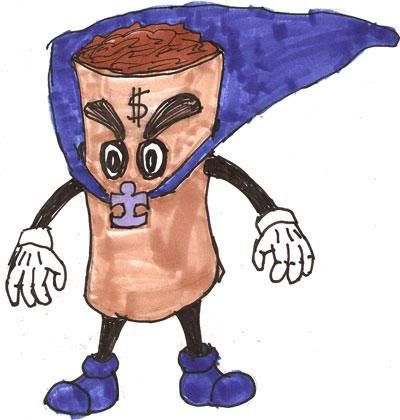 Second edit, November 14:
Maddy McEwen of
Whitterer on Autism
, who proudly looks at life through rose-colored spectacles, contributed Rosy the Flying Burrito (stuffed with cash). Much appreciated Maddy!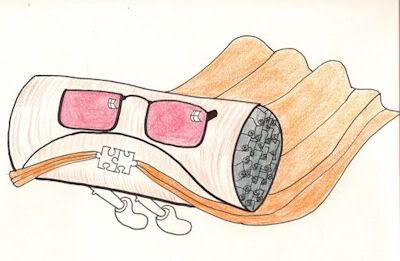 Labels: ASAN, Autism Speaks